Do you want to print your family tree from ancestry.com? our article helps you with the process of doing this task easily. There are mainly two ways by which you can print the family trees on ancestry that are: in family view or in pedigree view.
If you would like to print your family tree professionally then visit MyCanvas. You can also print lifestory and facts pages as well.
How To Print a family tree In Ancestry
Go to any page of your ancestry account, press on "Trees" tab and then choose a tree.
From the left side of the tree, press either the "Pedigree" or the "Family"
Now navigate to the part of your tree that you want to print. Part of the family tree that appears on the main screen while you tap on "Print" is the section that will be printed. Right now it is not possible to print a complete tree at once if the family tree expends beyond the computer screen, but you can navigate to different sections of your tree by pressing on the blank space in tree and continue to press down from the mouse or trackpad while moving your hand to navigate different parts of tree. You can go through any specific people in the tree by pressing the Tree Search button from the top-left corner and fill up the name in the panels that shown up and then select a name from the bottom section of the panel.
Go to the top-right corner of the family tree and then press "Print".
Now go through the top-left corner of the page, tap on "Print". If you want to create a professional book, calendar or poster, then tap one of those keys instead of key, and it will redirect you to publishing partner of Ancestry at MyCanvas.
Press "Ok" or "Print".
Ancestry Pedigree And Family Views:
The Pedigree view displays people horizontally, including younger people to the left side and their ancestors to right side of the views.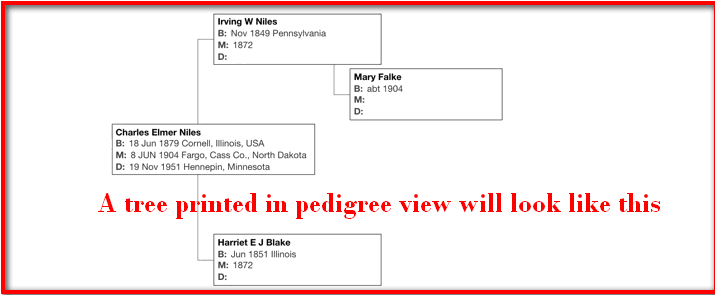 A family view shows the people vertically aligned, including younger person at the bottom of tree and their ancestors at the top of tree view. Family view requires more paper when printing a family tree and it is complex task to piece together once it is printed. You can choose any method from pedigree and family view as per your convenience and follow the given steps above to print your tree from ancestry.

How To Print a person's relationship to you
Through a person's profile page, tap on their "Relationship to You".
Press "Print" from the window those pop-ups.
From the next window, tap on "Print this Page".
Click on "Print" or "Ok".
How To Print Family Group Sheet In Ancestry
From a person's profile page, tap on "Tree Name Menu" from the top-left corner.
Choose Family group sheet from the shown drop-down menu.
Click on "Print" from the top-left corner of your family group sheet page.
Now press on "Ok" or "Print".
Final words:-
You can print your family tree on ancestry with multiple views like family view and pedigree view. Both have different structure and process to print them. So if you want to print the family tree you can take help from the above given detailed instructions for both the tree views.